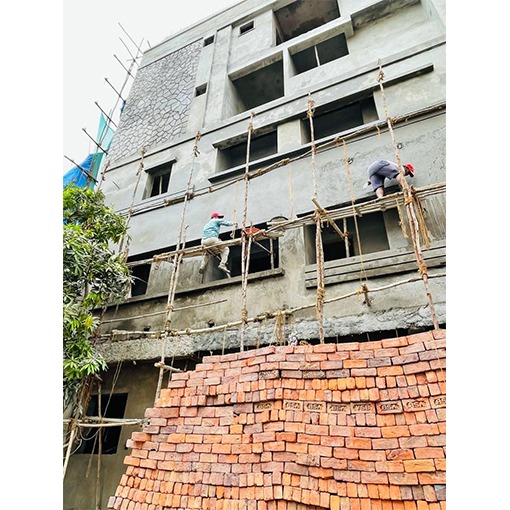 Building our own house from scratch is a dream that many of us harbour, but it surely is a stressful one. Just imagine permissions for floors, all the construction material required, contract labourers, architects and so on! Phew, you see what we mean? But what if we say that you only have to think about one thing, Wehouse - home construction (formerly known as hocomoco- Home construction and monitoring company)?
What would you say then?
This tech-based start-up operates in the construction realm and is a one-stop-shop for all your construction needs. They have been operational since October 2017 and have already worked on a total of 3,50,000 square feet of land and want to take the number up to 25,00,000, informs the founder of the start-up, 29-year-old Sripad Nandiraj. The very first tool of this Hyderabad-based that Sripad introduces us to is E-Monitoring. "It is not possible for anyone to travel to the site daily or talk to every team member involved. E-Monitoring helps with exactly that," he explains. You can monitor aspects like Daily Progress Report (DPR), workforce report, images and videos of the work, timeline tracking (work completed vs work that needs to be completed) and more. You can even post any question that you have and it will be answered. Then there is the material procurement interface, which is pretty self-explanatory. Apart from the 200+ quality checks they offer, they are currently working on a project management tool for predicting the quantity of materials that will be required. Our favourite tool? The Virtual Reality option that allows you to walk through your entire house, before it has even been constructed, with the help of VR. How exciting. "Once the floor plan is locked in, it's pretty much smooth sailing from there," says Sripad Nandiraj. Also, they have over 500 partners and the workforce But Wehouse - home construction (formerly known as hocomoco- Home construction and monitoring company) doesn't just take care of the cool parts of the job. "It all starts with a consultation call, over which we tell you about how much built-up area you can have, permissions required and the follow-ups, and the technical side of things," explains Sripad, who pursued his PGDM from the University of California, Riverside.
He adds, "An example of the technicalities is that in Telangana, the government goes by the height of the building, not the number of floors. So if the building is 15 metres high, then it can have five floors and so on." They even help you procure the permissions and connect you to the necessary architects, interior designers and more, who will help you build your house. The biggest advantage that Wehouse - home construction (formerly known as hocomoco- Home construction and monitoring company) provides is that whatever cost overrun that happens due to delay in the project, can be curtailed or at least identified immediately. "It is imperative that one keeps to the timelines," says Sripad. That we agree with, constructing a house is like running a tight ship. So yes, building a house is a lot of work. But that's the point of Wehouse - home construction (formerly known as hocomoco- Home construction and monitoring company), they help ease the load. They intend to launch home renovation services as well and infuse a lot more technology The five-step process - Your requirement: This is the stage where the consultation call comes into place - Cost estimation: The financial aspects of the project are discussed - Schedule visit: The site visit follows to further finalise the plans - Work execution: Work starts with full force and you are kept in the loop - Satisfied delivery: The project is delivered as per the requirement
Source- https://www.edexlive.com/happening/2020/nov/11/building-a-house-has-never-been-easier-thanks-to-hocomoco-heres-what-they-do-15759.html