Home Construction Company
Wehouse Home Construction Companies in Chennai delivers your dream home to you!
If you are thinking about investing in your dream home, chances are that you have already had this thought more than once; Which are the home construction companies near me in Chennai?
One would tend to think that choosing a construction company close to you is the best. You can reach the company quickly and avoid confusion surrounding delays. While this may be true, the expertise offered by Wehouse goes beyond geographical constraints!
Wehouse Home Construction Companies Near me in Chennai
Wehouse specializes in delivering the best possible service to our customers, no matter where in Chennai you are. We ensure you don't have to compromise on the quality of your new home. Are you planning for a home in any part of Chennai? We are your ultimate buddy.
We'll tell you why.
Scheduling Visits
No matter the distance, Wehouse prioritizes 100% surveillance and supervision, which includes timely site visits and inspections. If you are worried that there might be a lack of attention due to the property's location, let it rest with us!
We can work out the most suitable plan with you to schedule visits and arrange meetings to go over the progress of the work. In addition, you have the privilege of using these visits to instill desirable changes to your dream home as the construction progresses. We take note of every slight preference of yours.
Insurance
Wehouse is proud to be a part of your dream project. To ensure that it is executed perfectly, we also offer insurance. All potential issues you might face post-construction are tackled and dealt with efficiently at Wehouse. Don't worry; we've got your back!
Our expert team is only a call or message away from answering all your insurance-related queries.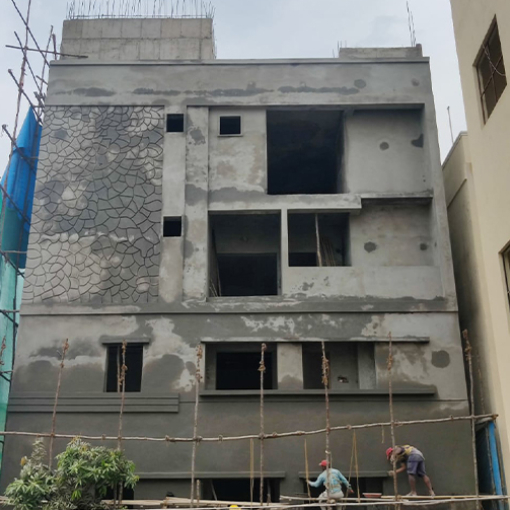 Transparent Service
Have you ever thought this: Are the home construction companies near me trustworthy?
If you nodded, Wehouse is your final destination. We do not burden our clients with hidden charges and are transparent about our methodology. We establish a suitable plan for you to work with and follow it religiously from beginning to end.
From laying the foundation stone to designing your house with the best interiors, we give you the best!
Digital Supervision
This sets us apart from the other home construction companies in Chennai. Wehouse is on a mission to enable India to attain complete digitalized construction literacy!
In addition to supervising visits, Wehouse offers well-rounded digital supervision. We provide complete video surveillance of the work site, which is delivered to you via a smartphone! Talk about easy construction!
If you continue to doubt Wehouse and our services in Chennai , do not hesitate to make that call! Ring us up and let your dream house take shape!